Improve Social and Emotional Skills with

The Social Express Program
If you have children who need to develop their social and emotional skills, The Social Express program can help.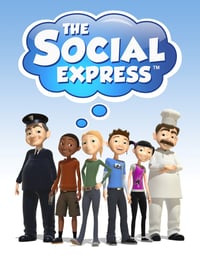 How would you feel if there was a way, in the safety of your home, for your child to be more able to:
Identify others' feelings

Read non-verbal social cues

Start conversations & stay on topic

Use figurative language (idioms) in conversation

Become part of a group

Understand the hidden rules in social situations

Sequence situations and predict what will come next

Monitor when others are using appropriate social behaviours

Use "eye contact" to figure out what to say or do in social situations
Your child can use the research-based, animated, interactive lessons in The Social Express "webisodes" to help Zack, Emma, Sam, and Katie solve social problems!


The 81 "webisodes" enable children - preschoolers to high schoolers - to practice real-life social interactions. They can build the skills to develop meaningful relationships and successfully navigate our social world.
They will learn:
Attentive listening

Conflict resolution

Conversations

Critical thinking

Group participation

Non-verbal communication

Relationship management

Self-regulation




Get The Social Express Program now
It's easy to get started. VISIT OUR SHOP to purchase The Social Express.