Platypus Power Reading Program

Different, for a Reason
You have the choice of many reading programs and resources to help develop your children's reading at home.
There is a way you can massively accelerate reading skills, without ditching whatever reading method and tools you are using now.
You can supplement your children's reading activities with the Platypus Power Reading Program – it's different, for a reason.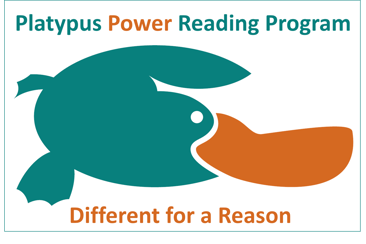 The Platypus Power Reading Program is different from every other reading program – just as there's no other animal like Australia's platypus. This powerfully effective package is the only reading development program which combines neuroscience-based exercises with voice recognition technology so your emerging readers:
Build their reading skills, including:
Phonemic awareness
Phonics & decoding
Spelling
Grammar

Higher literacy skills like summarizing and recognising story structures
Boost their vocabulary
Improves comprehension
Makes reading more enjoyable
Age appropriate vocabulary
Academic vocabulary

Practice reading aloud to a non-judgmental listener (the voice recognition technology) which improves:
Reading fluency
Comprehension
Reading confidence
Strengthen thinking skills to help them learn all subjects, not only reading. These skills include:
Memory
Attention
Thinking speed
The ability to sequence (what is the right order?)

When you add the Platypus Power Reading Program to your reading regime, it's like getting a team of world class reading experts and educational neuroscientists in your home, helping you deliver exercises and reading practice precisely tailored to your child's exact needs.
Plus, you and your budding readers have access to a 15 minute support call with a Reading Specialist. This means you are not alone if the going gets tough. The support will provide you the motivation to keep your learners on track, even when the reading exercises get challenging.