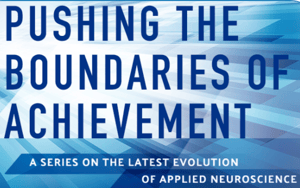 Are you time poor and would like to quickly cover 40 years of research into:
attention,
neurofeedback,
neuroscience and
how this is being used in schools, sport and business?
You can access just the "nuggets of gold" on the above topics in 5 x 1 hour sessions delivered by 5 industry experts, each of whom is passionate about their subject.
"Pushing the Boundaries of Achievement – The Latest Evolution of Applied Neuroscience" is a series of webinars, hosted by Elite Performance Solutions, a world leader in applied neuroscience, who have been able to draw on their network of scientists and expert neuroscience practitioners. We have a link to a recording of them and some downloadable resources mentioned in the webinars.
The scientists present the information in an easily digestible format for aspiring sports people, parents, coaches, educators and business people. I was privileged to be on the post-presentation discussion panel for each webinar. It has been the most fascinating set of PD "lectures" I have heard in 40+ years of being an educator.
These experts explained the latest findings about attention, EEG and neurofeedback, English language learning challenges, how our brains change during learning and the keys to good brain health. As part of describing how this knowledge is being applied to students and adult learners, they explained what is common in the brains of high achievers in sport, business and academics.
You should watch them in sequence because each one builds on the knowledge of the previous one.
My quick take-aways:
Session 1 - Dr David Rabinar, an expert on attention, shared a published study with a control group showing that without helping attention issues, tutoring wasted time and resources.
Session 2 - Dr Ed Hamlin, an expert on EEG and neurofeedback, made the complexity of neurofeedback simple for me.
Session 3 - Dr Michael Merzenech, the "father of cognitive neuroscience", is always engaging and gave insights to extending brain capability at any age.
Session 4 - Dr Steve Miller, a neuroscientist and entrepreneur who, over the last 3 decades, has collaborated with all of the above and helped to connect their research with end users, shared the basic fundamentals of good brain health (all technology-free) and his insights to helping school-age learners.
Session 5 – Tom Nugent, drawing on his 20 years working with professional sports teams, military special operator communities, as well as e-sports athletes (gamers). Fascinating!
Here is the link to the webinar series and the resources
Any questions? Please just ask and I will try and get you answers from the experts above.
Wishing you the best of brain health and longevity.
David Stanley, Director of Learning Ecosystems at LearnFast.