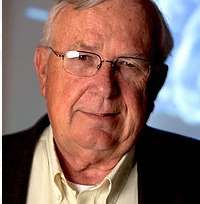 Fast ForWord founder Dr. Michael Merzenich has been awarded the Charles L Branch Brain Health Award by the University of Texas for his extraordinary contribution to neuroscience.
Last year Dr Merzenich was also given the highest honour possible in the field of neuroscience – The Kavli Prize. This saw him granted a gold medal by the King of Norway and a banquet in his honour in the same venue as the Nobel Peace Prize.
Dr Merzenich's discovery of lifelong brain plasticity revolutionised the neuroscience world.
Plasticity describes the brain's ability to learn by creating new connections between neurons within the brain.
Originally, it was thought that brains were only 'plastic' during early childhood as the brain developed. But Dr Merzenich's research proved brains could change and adapt well into adulthood.
Co-inventor of the cochlear implant
This understanding was first practically applied in his co-invention of the cochlear implant – an electronic device which replaces a damaged inner ear to seamlessly act as an artificial part of the inner ear. A cochlear implant allows sounds to not merely be enhanced (as hearing aids allow) but for the ear to continue processing sound as if it hadn't been damaged at all.
His seminal work, some may argue, was his application of neuroplasticity to modern computer technology and subsequent creation of the Fast ForWord language and cognitive enhancement programs.
Implementation protocols and repetition
Merzenich realized the ability of the brain to change itself could be harnessed to help individuals of all ages through repetitions best delivered by computer exercises. His realization led to the creation of the Fast ForWord implementation protocols – how often and how long an individual needs to complete the program in order for there to be a long-term effect.
One of the key to successful outcomes from Fast ForWord is repetition. Each time the brain performs a new activity, it creates and encourages the strength of connections within the brain.
This is how neuro plasticity works – new activities are tackled, creating new skills which are then refined and strengthened through repetition.
These repetitions are cleverly disguised as games by Scientific Learning (the company Merzenich led for nearly a decade) and thus the neuroscience-based Fast ForWord program was born.
As with all things, the proof is in the pudding. The program, now known as Fast ForWord123 has benefitted over 2.5 million individuals in the past 20 years. The evidence shows that Merzenich's discovery and inventions have greatly helped learners of all ages over the past 2 decades and will continue to do so well into the future.
Fast ForWord: How Much Evidence is Enough? Science & the Real World
Advice You Didn't Ask For: 5 Tips for a Better Life from Dr Michael Merzenich
5 World Firsts: Fast ForWord Brain Training & Reading Programs
Related posts