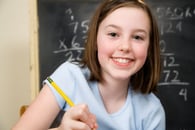 "The single biggest thing that a parent can give their child is the encouragement to do better, and not give them limiting beliefs about their ability or what they could achieve".
This is an opinion expressed by David Stanley, former math teacher and now Director of Learning Ecosystems Growth at Learn Fast Australia, in a wide ranging two part interview on the Learning Capacity Podcast.
In the first part David discussed rote learning of maths tables, how this can improve a student's learning capacity, the role of parents in helping students set goals, and the educational power of celebrating success.
LISTEN TO THE PODCAST
The second part of the interview covered these ideas as well:
Familiarity with mathematical concepts is a precursor to maths success
Encouraging students may be key to better student outcomes
Students' sharing knowledge and helping each other
The value of celebrating student success
The nexus between teaching and learning - should educators teach, or create environments for learning, and inspire students to learn?
" I think it's a powerful concept to continually keep encouraging students to explore ideas and to build skills. I know teachers would love the problem of having students so excited and soaking up so much knowledge that they'd have to provide more", David said.
Related Posts
Part 1 - Why Times-Tables Can be Smart Learning: Building the Maths Brain
Learning Capacity Podcast: Conversations about Learning & Neuroscience
9 Tips to Improve How You Learn & Your Learning Capacity
Student Learning Capacity- The Missing Link in Education
Why are 11 & 12 times tables Useful – At Least for Building Learning Capacity
Brain Training Principles in Maths Skills Booster Tool