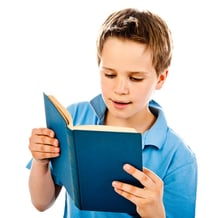 Elliot's mum, Elaine had been concerned about his learning ever since he started school. Elliott is now aged 10 and in Year 5 at school.
He did not seem to be making progress with learning to read in Year 1, and by Year 3 he was having trouble with literacy concepts, particularly with comprehension. He also struggled to understand maths concepts. He found it difficult to make sense of the relationships between mathematical symbols and what he was meant to do with them.
As a primary school teacher, Elaine saw a discrepancy between her very energetic, able, motivated, and clever-in-many-different-areas little boy, and his lack of learning progress at school. He needed a lot of help to grasp simple concepts in reading and maths.
Listen to Elaine tell the story in her own words:
Struggles with maths & literacy
She explains, " By the end of year 2, it was becoming a much greater issue. He was able to do comprehension tasks where he could find direct answers and direct links, but as soon as there was anything to do with inferring meaning from text, he was really struggling, and struggling also with maths concepts. He started saying, 'I don't want to go to school'. He was getting anxiety pains, and he really wasn't enjoying himself. It was a year 3 teacher who finally said, 'Look, there's just something that's not right'."
But Elaine was unable to find the right help for Elliot in Year 3 and so she went searching for a solution. Her search lasted 18 months and included:
Arranging via the school counsellor for Elliott to have a WISC assessment (Intelligence Scale for Children)
Considering if he had Auditory Processing Disorder
Looking at various maths programs for him
Consulting with colleagues
Reading extensively about learning difficulties
When she read "The Brain That Changes Itself", by Dr Norman Doidge, she discovered the Fast ForWord program.
After researching this program she concluded,"the research and all the information behind it is amazing. It's been recommended by leading neuroscientists and formulated by leading neuroscientists and educators."
Improvements after 4 months
So she got Elliot started on the Fast ForWord brain training and now after 4 months she reports major improvements in his:
Maths – "he's found understanding concepts and symbolic relations a lot easier"
Music – "I've seen a really big improvement in the music side of things, his ability to read and understand the symbols of music"
Literacy – "his comprehension has started to improve"
Concentration – "he's able to pay attention and focus on things without stressing about them"
Emotions – "he is now quite relaxed, a lot calmer"
As Elliot describes it, things are lot easier to learn, and when his teachers give him new information, he doesn't have to work as hard to keep what he has been told.
* Stock images used for Privacy.
Related Posts
What is Auditory Processing Disorder?
5 Essentials for Neuroscience-based Learning Capacity Programs
The Neuroscience of Learning & Fast ForWord by Dr Martha Burns
"Just Try Harder" Will Not Fix Your Child's Learning Difficulties